Oh, by the way. I forgot to mention the experience I had, when I'd return from vacation nearly two weeks ago. Normally I would just enter the office, log on to my computer, go get a cup of coffee, and then start to work. But this time, I first had to "un-wrap" my desk!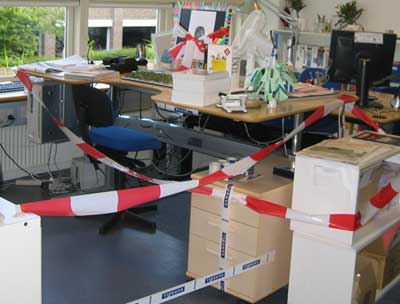 Each time I thought: "Finish! Now time for some work!", another surprise unveiled itself.
After the tape had been removed, I discovered the cress, growing in my keyboard. Then the ugly picture of me, mounted with long hair (someone had been playing with a picture editor). Then the missing wheels on my chair. My computer replaced by an old non-working one. And so on. After all looked like it self, it was now time for a cup of coffee (I still hadn't got my first cup). But no: my cup wouldn't move! Damn superglue! After releasing my cup, I was able to get some coffee and finally start to work! 🙂
I'm glad to see, my colleagues had something to do, while I was on vacation. They usually aren't that inventive. Maybe it was a little payback, for all the small things I've done to them over the years?!

Btw. Luckily the "cress-board" wasn't my real keyboard – just some old one, they had found. The real one, however, had a few keys changed about. That took me a while to figure out! 😉