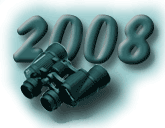 I haven't been writing for a while. I've been too busy doing things I get paid to do, instead of doing things I like. 🙂
I have a few things I would like to write about when I get the time.
Some of the planned blog posts in 2008 are a status on my quest to improve myself (at the moment I am working on not worrying so much) and a post about finding the truth in music (or through music? or TV-series?). That one is going to take some time and at this moment I am not sure it will be worth the time. But it will probably be fun to make the necessary research, and I think it could turn out to be both entertaining and intelligent (or I could be wrong).
What about the rest of the blog posts in 2008? Well I don't know yet.